By Pearlie Phillips
When I think about faith, I am reminded of Hebrews 11:1, which says, Now, faith is the substance of things hoped for, the evidence of things not seen. These words symbolize the very essence of my faith walk with the Lord. Learning to depend on the Lord and to hear the voice of the Holy Spirit is an important part of a believer's life. Depending on the Holy Spirit's guidance is a crucial as breathing.
I was born in the city of Flint, Michigan. Through a tragedy, my sister and I found ourselves orphans. Through God's intervention, we were adopted by my aunt and her husband, and we moved to Freeport, Illinois. My parents were devout Christians and extremely strict. My father was a Methodist minister, my mother a missionary and opera singer. I became rebellious and left home at the age of nineteen and met an older man. We lived together for eight years and had a child. But when he became abusive, we separated, and I found myself a single mom.
One day I became despondent with life and contemplated suicide. As I was walking home, a pastor and friend from the Church of God in Christ approached me. He said, "You know, Pearlie, Jesus really loves you." I thought to myself, how could Jesus love me when I don't even love myself? I continued on in my mess, but God was always there protecting me. His mercy, grace, and love surrounded me.
As time passed, my life started spinning more and more out of control, and one night Jesus appeared to me. He had on a white gown that was shining, as white as snow Mark 9:3). About His waist was a golden girdle (Rev. 1:13). His hands were stretched out toward me and I heard him say, Come unto me all ye that labor and are heavy laden, and I will give you rest. Take my yoke upon you and learn of me; for I am meek and lowly in heart, and ye shall find rest for your souls. For my yoke is easy, and my burden is light (Matt. 11:28-30).
When Jesus spoke these words, His WORD, His LIFE, filled my spirit, soul, and body. His words not only revolutionized me, they brought me rest and peace. An extremely dramatic, godly change took place in my life and my personal testimony in the community was remarkable. Many of my old friends came to the Lord. They said, "If the Lord can do this for Pearlie, He can do it for us." Unfortunately, other friendships dropped away.
So began my faith-walk. Hebrews 11:6 states, But without faith it is impossible to please Him, for he that cometh to God must believe that he is, and he is a rewarder of them that diligently seek him.
Jesus, Yeshua, the Messiah, the Son of God, brought stability and meaning into my life, and He gave me a purpose. He said, "Stand on your feet. I have a job for you." And this became my mission call.
In 1975, by faith, I accepted God's gift of salvation, and my daughter (12 years old) and I joined a little Pentecostal church. We served there until I was called to the foreign mission field in 1979. The Lord said, "I am sending you out two by two (Mark 6:7)." He said, "You will take your daughter with you and I will take care of her." He kept his promise. He opened a door for her to study at the Anglican International School. She graduated at the age of nineteen and returned to the States to finish her studies.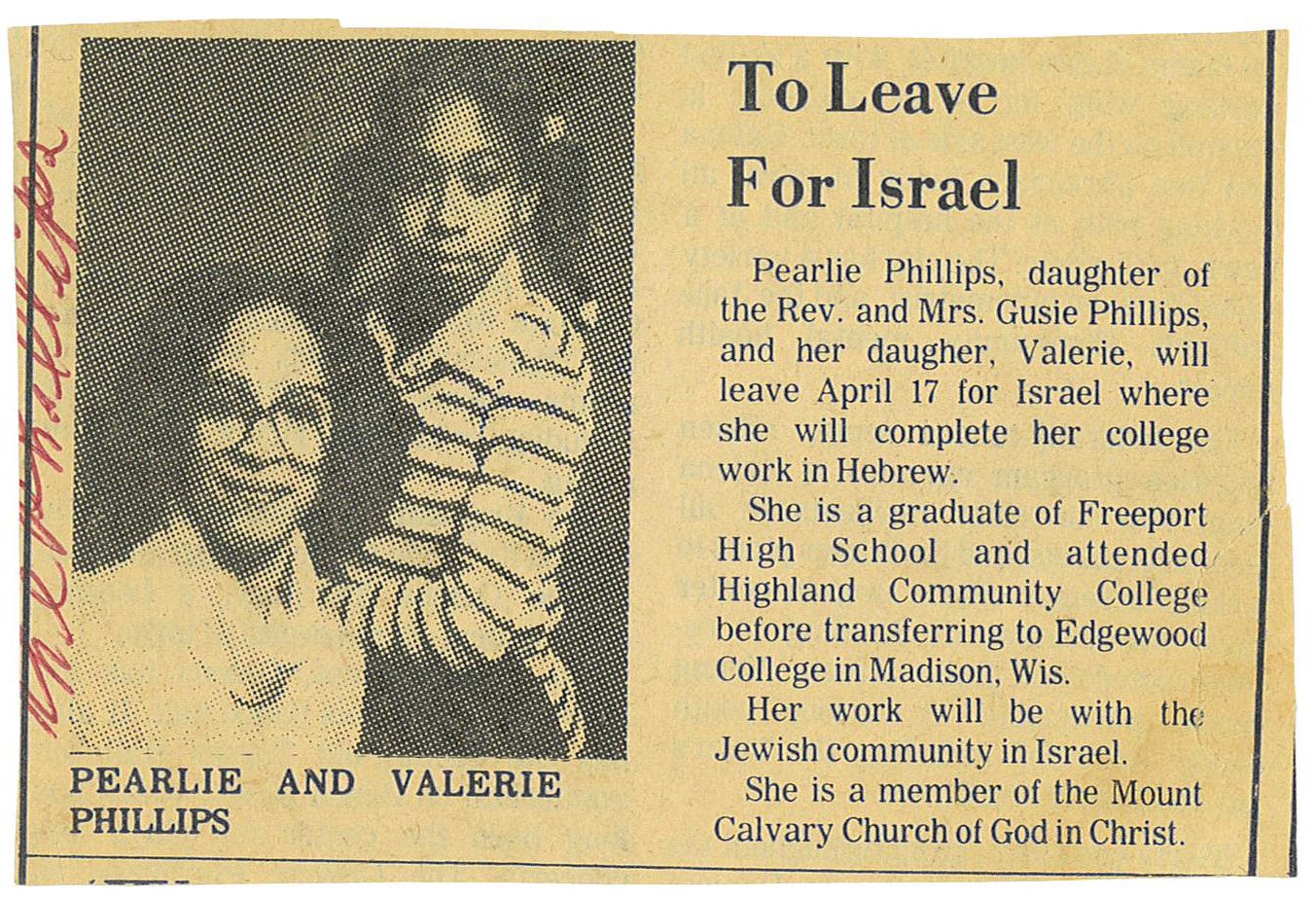 My first calling was specifically to the Jewish community in Jerusalem, Israel, where I served for 16 years. I learned Hebrew and became a member of the King of Kings Assembly, where I took an active part in the prayer and intercession ministry of the congregation.
My second mission call was to Salzburg, Austria, where I spent seven years. I was led by the Holy Spirit to the International Baptist Church with a commitment to prayer. I received a special gift from God during this time. A harp was built especially for me, and by faith, the Lord also provided a harp teacher. This brought me so much joy as I worshipped the Lord. And a door was opened for me to attend the University, where I learned German. I love to worship God and be a witness for Him in this beautiful language.
My third call: The Holy Spirit led me to a fellowship at St. Silas Episcopal Church in Glasgow, Scotland, where I participated in the ministry of intercession. Later, He led me to help the Glasgow City Mission, a ministry to street prostitutes in the red-light district. I was able to share how I found peace and rest in the Lord. A few of the girls said that they, too, needed rest.
My next mission call was to London, England, where I served one year, helping with the street ministry and praying one-on-one for my friends' daughter.
For seven years I was called to several other countries, including Heidelberg, Germany, where I worked with students and interceded for my friend's marriage (which was restored by the Lord!).
I was called to Switzerland for three months, serving in an international Pentecostal fellowship.
I came home on sabbatical leave to assist my daughter, who was battling with a kidney disease. I thought I could donate one of mine to her, but we were not a match. On March 17, 2002 she lost her battle and went home to be with the Lord.
I heard in my spirit that now, my grandchildren were to be my mission field. I was to teach them His ways and "take them over the Jordan, into the Promised Land." They were 11 and 12 at this time.
The Lord opened another collegiate door, this time at Concordia University. I was able to finish my degree in Theology and Religious Studies.
I started praying for fellowship and the Holy Spirit led me to BCF in 2019. He said, "I want you to become more involved in the church." Hallelujah! I thank the Lord for His leading, and am now waiting on Him for my next assignment.