By Pastor Dave Ogren, US Missions Director, Great Commission Media Ministries
I am so very grateful for Bethel Christian Fellowship's continued, faithful support of our ministry, for many years now. You have helped us make Christ real, in dark, difficult places all over the world. Thank you so very much for partnering with us in the Gospel.
One part of our ministry is the media evangelism campaigns we have done in some 107 cities all over the world – places like Russia (40 cities); India (5 major cities including Kolkata); 3 in Nepal; Erbil, Iraq; Colombo, Sri Lanka; Beirut, Lebanon; Israel; Guyana; Suriname; Paraguay; Havana, Cuba; Juba, South Sudan and many more.
Our last media evangelism campaign occurred last December/January before COVID-19 hit all over the world. We had 1,000 churches involved in Dar es Salaam, Tanzania and did our usual life stories from right in Dar es Salaam: people whose lives were changed by the Gospel; life testimonies on secular television, radio, billboards, newspaper ads, social media – all going for an entire month and all listing our call center number and web site. By the end of the month, we had 143,000 calls come into our call center. Amazingly, 70% were Muslims. The churches since have been following up on all these people with our follow-up book that we print for every city with about 10 of the testimonies and very simple evangelism/discipleship materials included.
Because of COVID-19, our next 4 media evangelism campaigns are on hold until international travel is allowed. We hope by summer to begin campaigns in Eastern Ukraine and Mongolia, to be followed by a national campaign in Thailand with 5,000 pastors and churches.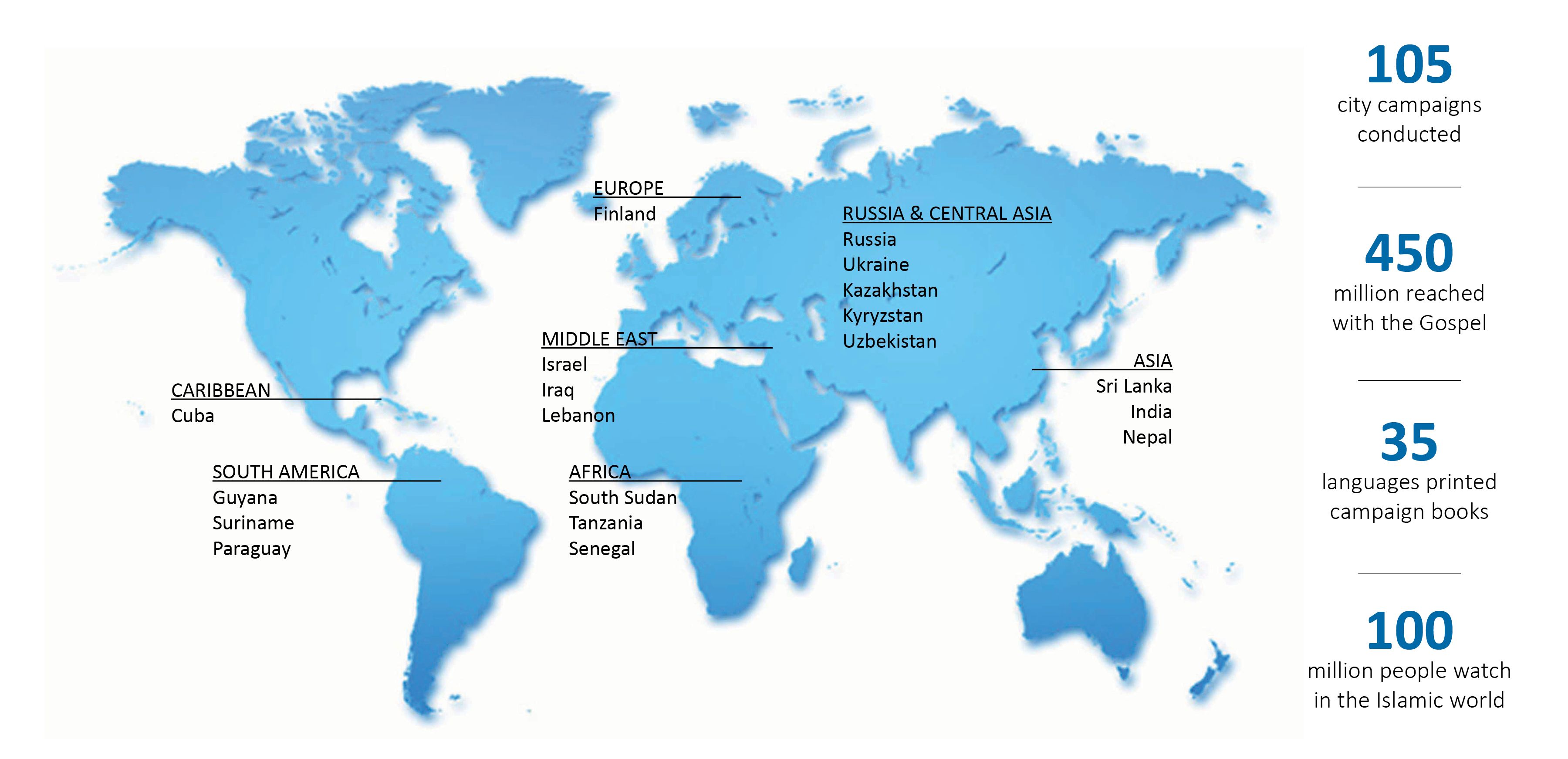 Even though we had been restricted in our media campaigns, our satellite television broadcasting from our studios in Finland has continued unhindered. Every day, 5 days a week we are broadcasting on 16 satellite networks exclusively into the Middle East ... from Morocco to Pakistan into places like Iran, Saudi Arabia and Iraq ... in Arabic, Farsi, Amharic, Somali and Tajik. We have wonderful Christian people who speak these languages as their first language and come into our studios to preach, teach, do discussion groups and worship music. We average 1,000 programs a year and are presently receiving 250-300,000 RESPONSES a month!
The data is staggering ...100 million people are viewing our programs with 35 million Facebook views and 40 million YouTube views. As you imagine, our staff of 16 full time workers in Egypt, who are responsible to delegate the follow up throughout the Middle East, are literally swamped with work! One man from the Arab Emirates recently wrote: "My family is fanatically Islamic and they tell me that Christians are bad. You however have begun to teach me the truth! It's difficult to access your web pages because the government tries to block it. Please help me!"
And so ... we continue to do our best to make Christ real in dark and difficult places all over the world. We have discovered that the light of Jesus shines very bright in these dark places. Thank you for helping us! God bless you.